Homeoffice as a use case for the digitization of your performance management

Corona has advanced digitalization. Home office is now an indispensable part of many companies for a post-Corona era. Hybrid models can combine the wishes of companies for at least consistent productivity and workers for an improved work-life balance.

If you look at the recently published studies (I refer to studies in Germany), the experience with Homeoffice is mixed. According to the Ifo Institute, managers and HR professionals surveyed [1]say that even in more companies, productivity is reduced than improved by home office; if one asks – like the DAK – [2]employees, 3 out of 4 employees see an improvement in their productivity.

These experiences with home office are characteristic of the changes in the company that must deal with digitization. A new technical platform is only a prerequisite for digital work. Other factors determine whether the new technology becomes a success factor. The same is true of the deeper changes we are undergoing in performance management. In this respect, home office is a good case, a litmus test for your digital maturity.
The success factors for digitaltransformation

Technological change becomes productive when companies become fast-learning and adaptable organizations. The most important success factors for digital transformation are the willingness to change, entrepreneurial culture, participatory leadership, data-driven decisions, the culture of continuous learning and a critical, respectful feedback culture. The study "The adaptable business"[3] by Oracle and the Otto Beisheim School of Management has identified these factors well and evaluated them with productivity potentials. And because all these issues are at the heart of digital performance management, companies will sooner or later deal with them.

What does digital performance management look like?

In the following chart I summarized my view of the changes in performance management from industrial to digital on a chart.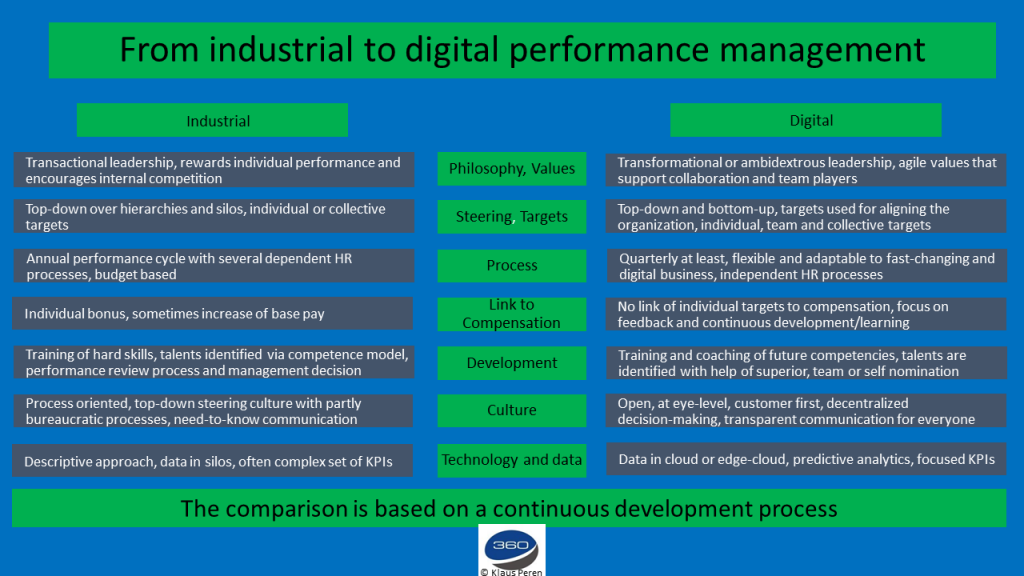 The "soft" factors of transformational or ambidextrous leadership, an open, decentralized, and entrepreneurial culture with agile values are probably even more important than the points of operational implementation (process, link with remuneration or development). Whether culture follows the strategy or culture eats the strategy for breakfast is for me idle to discuss. It is not a question of either-or, what you should start first, but of how to make the changes inclusive and shape in a continuous development process in which productivity and motivation go hand in hand.
In this blog, you can read my posts about an agile model of performance reviews (in German), a SWOT analysis of the OKR model, a framework for a feedback culture, or my guide to feedback conversations. In my view, these are topics that could belong to a successful digital performance management.
As always, I am looking forward to receiving feedback.
---
[1] https://www.ifo.de/node/59824
[2] https://www.dak.de/dak/landesthemen/studie-homeoffice-2401564.html#/