After mindset and focus, now the third layer "development". Rationally, it is probably clear to all of us that we and our organizations/companies need to learn faster and more purposefully and that change, and adaptation becomes a lifelong (not only professional) challenge for us personally.
The article is about a new approach to lifelong in-company learning and change, how feedback models help us and why and how HR work will again focus on the people in the company.
1 A) Continuous learning

In schools, universities and continuing vocational training, learning formats from the last century still dominate.

In the business world we usually still focus on formal in-company training, although we know for some time that this part only contributes a good 10 percent to our accumulated knowledge. In contrast, we learn a good 70 percent on the job, 20 percent from others. The article in the footnote (in German)[1] explains the 70/20/10 model very well.

Of course, the figures are not set in stone and differ between companies due to their learning culture. In addition, the areas overlap if, for example the skills developed in a training is applied directly in everyday working life. But we cannot hide the fact that we forget very quickly.

In the 19th century, Ebbinghaus already found out that after 20 minutes we kept only 60 percent, after an hour only 45 percent, after one day only a third and in the medium term we kept only 15 percent of a once heard. The dashed line in the chart below shows this course of forgetting. The loss of information and knowledge is enormous without "countermeasures".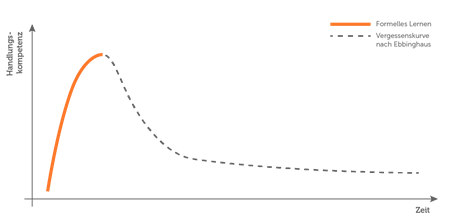 Source (in German): https://insights.tt-s.com/de/lernen-im-job-wie-die-lernkurve-steil-ansteigt
Company training is sustainable if it is called up/used very quickly in everyday working life and is associated with follow-up measures. In other words, when the course participants are subsequently asked by reminder e-mails, questions on topics, when learning nuggets are integrated into the operational process and in the future these learning nuggets can be adapted to the individual learning progress with the help of AI.

In the following chart I have concretized the three boxes of the 70/20/10 approach with the learning fields (what is each box about from my point of view). The arrows are intended to show that formal learning and learning from each other lead to sustainable learning if they are linked to everyday life. Mentoring, coaching, feedback are exactly such approaches from learning from each other.

Source: Own Chart

In on-the-job training, vocational training becomes faster and more sustainable if technical instruction is quickly instructed/trained and if managers and employees regularly exchange information about learning progress and areas of development. The role of team leaders is therefore particularly important for the efficiency of in-company learning. The transfer of know-how is becoming increasingly important.

The individualization of learning, the possibility that employees can learn independently from learning platforms according to their needs and abilities, are further success factors for sustainable learning.
1 B) Continuous change

Lifelong learning is the prerequisite for organizations to develop and for the changes to be successful. The willingness to learn and quickly adapt to new operational challenges is one of the most important change tasks in companies. Keeping professional skills up to date is still relevant, but soft skills are becoming even more important. We work in an increasingly complex and dynamic environment.

For me, the most important future competencies (soft skills) are the willingness to learn and change. The challenge in change is that we understand, accept why we need to change and learn continuously. And ideally identify with this new role, with the internalized motto:

Learning is fun, and I see great opportunities for me through the upcoming changes.


2 Strong feedback culture

In my blog you will find a lot of articles about feedback: A framework for productive feedback, a feedback guide or FAQ. Simply enter feedback in the search box above. Therefore, I will only briefly discuss the cluster. Under Feedback, there are different formats. At the top of the section, I have already referred to the direct feedback of the supervisor or the team members, in addition, the structured feedback supports the development of behavioural fields and soft skills. This is where my framework for feedback comes in.

In addition, other feedback formats, which you can see from the diagram, can support the development of employees and the organization. From my point of view, the most important effect results from the personal exchange. 360-degree feedback is a good approach if you learn from the results and derive e.g., development measures for the participants.

Source: Own Chart

3 People Centric HR

People Centric HR is the art of bringing efficient HR work closer to people again. People and Customers first is the headline for this readjustment.

Specifically, People Centric HR is for me an approach to organizational and cultural development in which people are optimally involved, motivated, find meaning and support long-term learning and the continuous willingness to change. The most important points are just brief:

It already begins with recruiting to find the right employees with the desired soft skills.
Competency models are under criticism. Competency models continue to make sense for me if they focus on soft skills and include what behavior and mindset we want for our company. They are the basis for recruiting and personnel development.
In onboarding, you focus on seamless integration, networking, exchange, and motivation.
Individualized learning and individual development take place via regular development discussions and via the above-mentioned learning platforms. Approaches that have answers to the unconscious mistakes in personnel selection and development ensure equal opportunities. I think it's great when companies offer their employees the opportunity of corporate volunteering.
They have structured succession planning and enable a career according to the performance principle. Diverse teams and a diverse culture are an enrichment for your company.
The feedback tools become the drivers of their corporate culture in the direction of agility and desired mindset. Through appreciative interaction at eye level, these instruments are lived elements of a culture of trust.
The remuneration is in line with the market and without gender bias. As far as it is operationally possible, employees can also take longer breaks. Their benefit portfolio is not only tax-oriented, but also benefit-oriented and aligned with their operational goals.
With HR Analytics, they know more quickly and easily how the organization is developing, where they should adjust and how high the contribution of the individual and the team to the overall success is (see also the post on focus). In this respect, HR analytics supports the development of your organization. If you are aware of which HR ratios are critical to the success of your business, HR Analytics can also be implemented for smaller companies. There are hands-on approaches that work for SMEs.
This was the third and last part of the series "The DNA of very successful companies". I hope the contributions are informative and offer approaches for discussion and deepening. As always, I look forward to receiving feedback, here or in person.
---
[1] https://insights.tt-s.com/de/70-20-10-die-erfolgsformel-fuers-lernen, written in German